Enjoy the flexibility and freedom that comes with an Amaysim Prepaid SIM Card. Powered by the Optus 4G Plus Network, you can experience the benefits of a major network without the pressure and commitment of a lock-in contract.
When you join Amaysim, you can enjoy a huge range of low-priced services, and even choose your prepaid plan.
Each Amaysim Prepaid Starter kit include 3 sim sizes – Standard, Micro and Nano – so you've got what you need to power your mobile phone, smartphone, tablet or modem.
You can easily join the Amaysim Mobile Network by shopping at Auditech. We offer you fast and reliable service, as well as a huge range of the latest high quality and genuine tech products. If you're looking to start your mobile journey, you can't go past Auditech for SIM Card Starter Kits, Mobile and Smartphones, Screen Protectors, Phone Cases, Audio Accessories and More. And with FREE Shipping Australia-Wide Shipping, it couldn't be easier!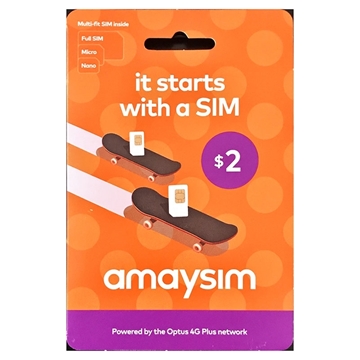 Powered by the Optus 4G Plus network. Choose any mobile plan when you activate online. SIM-only pack contains no value.