Connect with friends and family easily by joining Amaysim - one of the fastest growing mobile networks in Australia.  Powered by the Optus 4G mobile network, with Amaysim you have access to not only the great coverage Optus offers, but also unlimited calls and texts in Australia.
Enjoy the flexibility that only a no-lock in prepaid mobile contract can offer. You no longer need to be worried about hidden fees and extra charges with the prepaid Amaysim mobile network. Amaysim is an award-winning mobile network, having scooped the Whistle Out Provider of the Year Award in 2021. See why Amaysim is the mobile provider of the year by getting you Amaysim SIM Card Starter Pack today.
In addition to Amaysim SIMs, here at Auditech, we also offer a huge range of tech devices and accessories, including mobile phones, smartphones, mobile phone cases, screen protectors and everything you need to get you started.
Buy Amaysim SIMs online at Auditech today.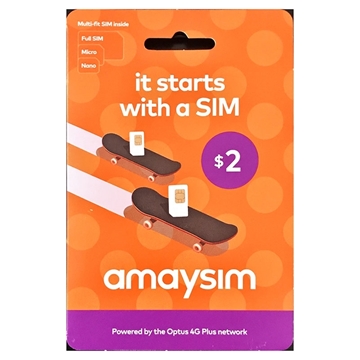 Powered by the Optus 4G Plus network. Choose any mobile plan when you activate online. SIM-only pack contains no value.